Back
SETDAB 16 Days of Action: White Ribbon & International Day of the Elimination of Violence Against Women
Community leaders are uniting across Southend, Essex and Thurrock and promising to end male violence against women.
White Ribbon Day on Thursday, November 25th also known as International Day of the Elimination of Violence Against Women sees the start of the Southend, Essex and Thurrock Domestic Abuse Board's (SETDAB) 16 days of action campaign. This year, the partners are asking male role models to take the White Ribbon promise and will be sharing their images across social media to show how Essex is United against sexual violence and domestic abuse.
They are encouraging men across Essex to stand together and make the promise too, sharing them on social media using the hashtags #EssexUnites #AllMenCan #MakeThePromise.
The promise, which is available on the White Ribbon website, reads:
"I promise to never to commit, excuse or remain silent about male violence against women."

Pledges from a few of our local partners
We believe that #AllMenCan make a difference in ending violence against women and girls. If you are a victim of violence, or know someone who is, you can seek support and find community resources available on our website. Always call 999 in an emergency.
Roger Hirst, Police, Fire and Crime Commissioner for Essex was one of the first people to take the pledge. He said:
"I will not tolerate violence against women. As a male leader in Essex, I need and want to stand up and condemn male violence against women."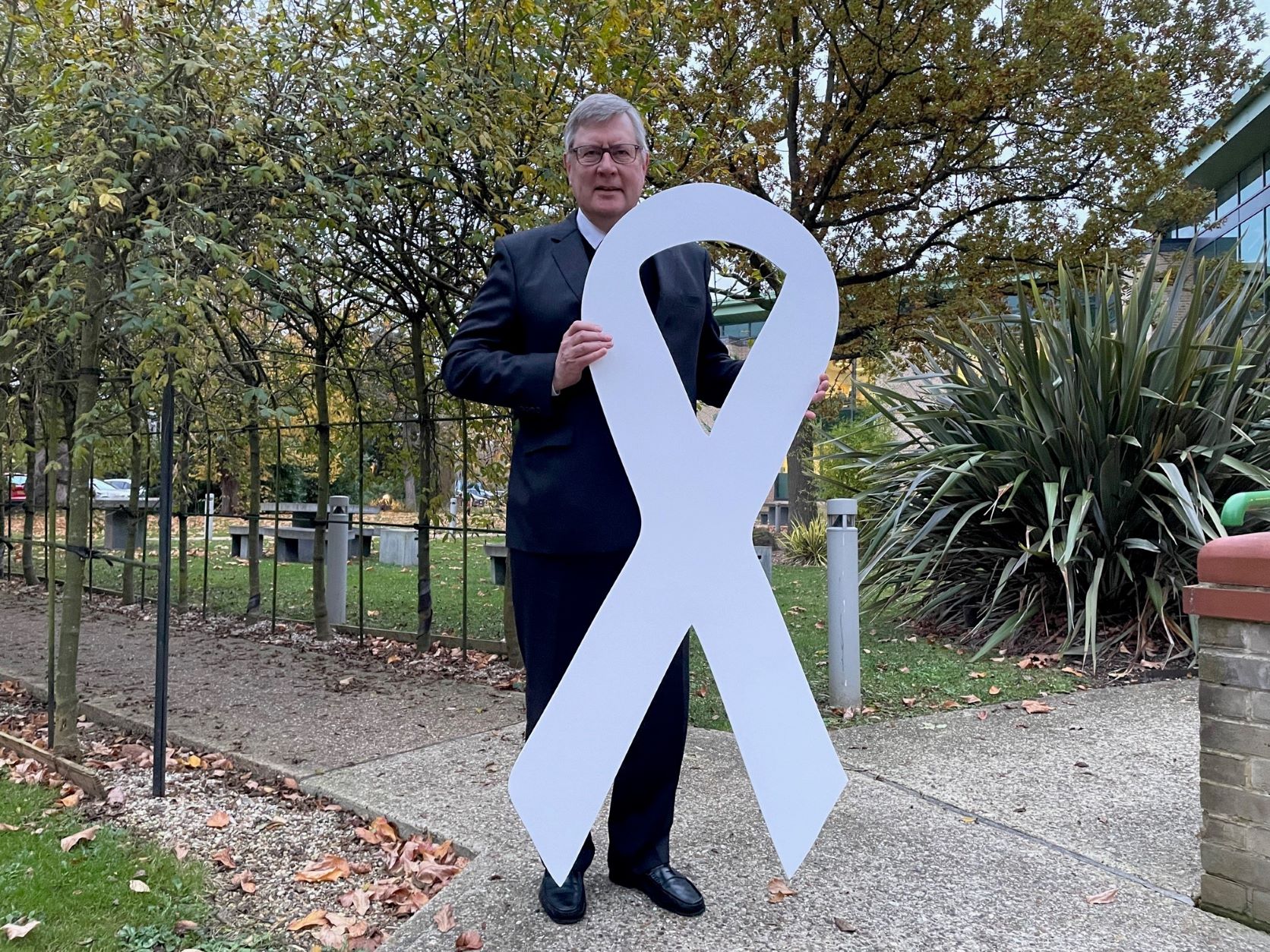 *Roger Hirst, Police Fire and Crime Commissioner for Essex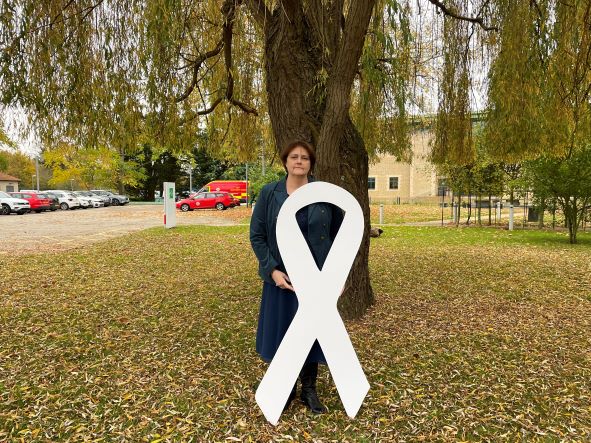 *Jane Gardner, Deputy Police Fire and Crime Commissioner for Essex and Chair of SETDAB
Essex Police Chief Constable Ben-Julian Harrington said:
"The issue of male violence against women and girls impacts those across our country – and our county – every day. "This isn't a problem for women to solve, so it's crucial that men are visible and are true to their word in preventing the spread of gender-based violence. That includes me, and it includes those who work for me and serve the people of Essex
"We know this isn't an issue that can be solved by one agency alone and Essex is united in that. That's why we're working with local councils, safety partnerships, and other partners to ensure that women and girls feel safer in public spaces. "My officers, staff and volunteers work tirelessly to support victims, serve the public and, most importantly, deliver justice by locking up criminals every single day.
"But it would be naïve of me to suggest that we don't need to continue to work hard to maintain the trust and confidence of the women and girls of Essex.
"National events can carry across the perception of all of policing, but we need to be a good example for the public to follow. I don't want anyone working for Essex Police walking by and excusing unacceptable behaviour or committing it, and those found to have done either will be dealt with. We are your police force and we are here for you. We will continue to listen, to learn, and to deliver justice for victims of crime across Essex."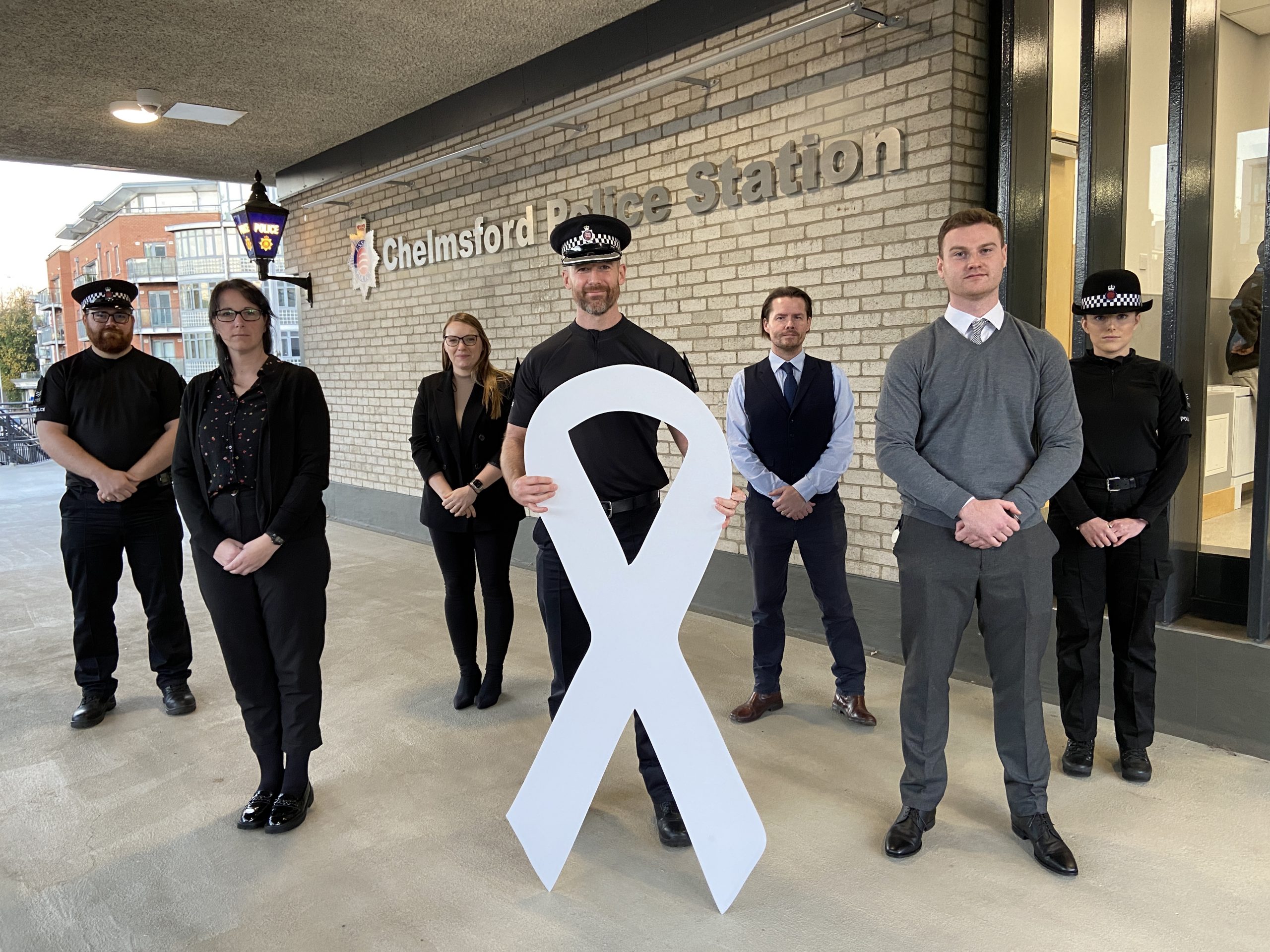 *Essex Police, staff at Chelmsford Police Station.
Councillor Anne Jones, Southend-on-Sea Borough Council's cabinet member for communities and housing said:
"We in Southend stand firmly together against all forms of violence against women and girls. As members of the Council we fully support this year's official White Ribbon pledge and will never excuse, or remain silent about male violence against women. Southend needs to feel and to be a safe place for everyone who lives and works here, both outside, in social situations, at work and in the home. I ask everyone to make the same pledge and stand together on White Ribbon Day.
"Please do reach out if you need help. We are here to support you. There is support information for you on the SETDAB website, or you can call our partner, Compass on 0330 333 7444."
How can partners get involved?
Get members of your community involved – do you have any services who might want to be pictured, any community groups or leaders, small business owners, or any Community Safety Partners who might like to take the pledge?
Use the hashtags #AllMenCan and #EssexUnites for your own content.
Direct traffic to the SETDAB website.
Share content of colleagues for the 16 days to highlight what we're doing as a county, and to reassure the women and girls of Essex that we're working together to keep them safe.
There are opportunities for everyone to get pictures throughout the 16 days of action using the poster above.